Helvetian Itinerary
Starting out from Barolo, follow the street in the direction of Dogliani, to reach the centre of Monforte d'Alba, where we suggest you to take a nice walk around the so called "Saracca", the hamlet centre, which proudly preserves its long time characteristics and peculiarities. From here you can reach the Auditorium, a real open-air amphitheatre, location of many concerts and events. Leave the village, following the street signs for Alba, and go down towards Castiglione Falletto, where you can take a walk through the narrow streets of the village centre, around the parish church and medieval castle (which is a private property) before reaching the Municipal Wine Cellar, located just below the Strada del Barolo offices, overlooking a splendid panoramic terrace, where you can find some examples of the local wines.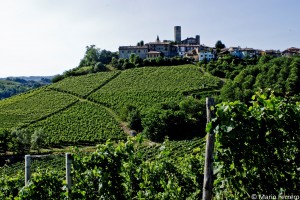 From Castiglione Falletto, go down towards Alba. When you reach the crossroad, follow the directions for Serralunga d'Alba. After few kilometres turn left to visit the characteristic Tenuta Fontanafredda, a manor which includes: hunting lodge, village, wide cellars, vineyards, and a park where you can eat a barbecue accompanied by the manor wines.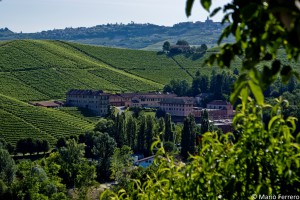 Move on in the direction of Serralunga d'Alba to reach the centre of the village. Here you can visit the amazing and ancient castle that towers over the village. The castle is unique in Italy; analyzing its architectonic structure you will discover that it is a French Donjon, a keep. This building, more than a military fortress, had the function of controlling the local productive activities, as its same slender and wide structure suggests. The "Salon of the Vavasours" is the main room of the castle, characterised by its wonderful panelled ceiling. The salon is decorated with the ancient Frescoes of the votive chapel, frescoes of the mid XV century depicting the martyrdom of Saint Catherine of Alexandria, with, on a side, Saint Francis, on the background wall and the Agnus Dei symbol on its top.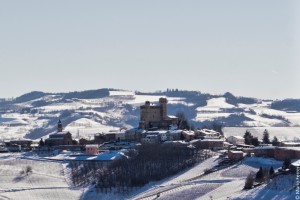 As soon as you have left the village, go on north, following the street signs for Grinzane Cavour. Pass through the village of Belvedere and when you arrive in Bruni, turn left in the direction of Monforte D'Alba. After some hairpin turns, you will approach the village of Perno, where you can stop and visit the Tenuta di Luigi Einaudi; a castle dated back to the 18th century. When the visit is over, you can get in the car again and go on in the direction of Alba. Following the street signs for Grinzane, pass Bruni and at the crossroad at the bottom of the hill, turn left and drive on to Barolo to conclude the Helvetian Itinerary!!
Wine Cellars Along the Itinerary
Places to Eat Along the Itinerary
Accommodation Along the Itinerary