The trails of Dolcetto of Alba and Diano
Starting from Barolo, take the street in the direction of Dogliani. As soon as you arrive in Manzoni, turn left and go on to Monforte D'Alba. Go through the village and continue in the direction of Serravalle Langhe.
After a few km on the vineyard dotted hills, you will reach Roddino, a municipality 600 metres high, from which you can admire the wonderful and evocative landscapes on the Langhe.
Get back in the car and move along in the direction of Alba following the street signs for Serralunga d'Alba and then, when you arrive in Castella, turn right going on to Sinio; a small rural village dated back to the Middle Ages. Park the car and, walking through the streets of the little hamlet, you will reach the castle (today the location of a prestigious hotel).
Going further north, in the direction of Alba, follow the street signs for Rodello until you arrive in Montelupo Albese. Even from here you can enjoy a beautiful view and, with a bit of luck, you can admire the Western Alps where the Cervino, Monte Rosa and Monviso rise, standing out in the background of the prestigious hills of Barolo.
After returning to the car and driving closer towards Alba, follow the street signs for Diano d'Alba. When you arrive in the town centre you shouldn't avoid visiting the municipal wine cellar where you can taste and discover the key local wines.
At this point, go on in the direction of Barolo towards the village of Grinzane Cavour, a name connected with the Piedmontese statesman Camillo Benso, Earl of Cavour, who stayed in this village for 17 years; being also its mayor.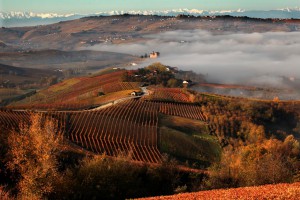 Entertain yourself with a visit to the castle in the town centre, which is the seat of the Regional Wine Cellar, the Ethnographic Museum and the famous World White truffle of Alba Auction. Several of the Castle's rooms house a permanent museum which includes displays on truffles, rare articles relating to the local food and wine production, 17th and 19th-century Alba kitchen settings, a distillery from the 1700's, a cask-maker's workshop, and rural life information. Camillo Benso the Earl of Cavour, was one of the architects of the Unification of Italy and owner of this Castle. He lived here from 1832 to 1849, during which time he was Mayor of the village of the Municipality of Grinzane. Interesting discoveries in the field of viticulture are also attributable to him. His furniture, manuscripts and mayoral tricolour sash are preserved in the Castle for all to see.
Depart from the centre of Grinzane, journey in the direction of Castiglione Falletto and go on towards Barolo to finish your adventure along the paths of the Dolcetto of Alba and Diano!!
Wine Cellars Along the Itinerary
Places to Eat Along the Itinerary
Accommodation Along the Itinerary
Places to buy Food and Wine Products Along the Itinerary