A walking tour in the city centre of Alba accompanied by an english speaking guide. This unconventional tour will give you the opportunity to discover the city from a different point of view, the top of its skyline! Together with our english speaking guide you will enter in some historical buildings, normallly not opened for guided tours, to see the skyline of the city from their panoramic top or balconies.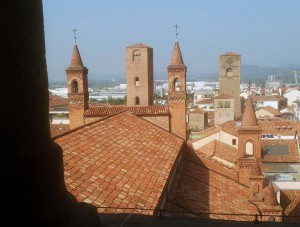 The guide will talk about the history of the city and show ancient Romans' ruins, the Cathedral, the medieval towers, the Town Hall which hosts some of the most important artistic maesterpieces of the city and where it will be also possible to go out on the balcony facing the main square, piazza Risorgimento (or Piazza Duomo). You will also learn more about life during medieval times and listen to anecdotes and curiosities about the history of Alba. The tour starts in front of the Cathedral (San Lorenzo Church, Piazza Risorgimento) at 2.30 pm and lasts 1,5 hours.
At 4.00 pm your day tour in Alba will end at Palazzo del Gusto (Piazza Medford) with the Wine Tasting Experience®: the most original tasting you can take part in in the Langhe. Every weekend, expert winemakers and sommeliers will lead you on a journey through the variety of local wines and labels, revealing their characteristics and curiosities. You will be able to taste Barolo DOCG, Barbaresco DOCG and many of the other premium products making up the extraordinary winegrowing heritage of the Langhe and Roero.
Info and booking:
www.winetastingexperience.it
www.icannubi.it
tasting@stradadelbarolo.it
CALENDAR
Saturday October 13th
h 2:30 pm Alba Panoramic Walking Tour
h 4:00 pm The crus of Barolo
Saturday October 20th
h 2:30 pm Alba Panoramic Walking Tour
h 4:00 pm The crus of Barbaresco
Saturday October 27th
h 2:30 pm Alba Panoramic Walking Tour
h 4:00 pm The taste of the hills
Saturday November 2nd
h 2:30 pm Alba Panoramic Walking Tour
h 4:00 pm The taste of the hills
Saturday November 9th
h 2:30 pm Alba Panoramic Walking Tour
h 4:00 pm The taste of the hills
Saturday November 16th
h 2:30 pm Alba Panoramic Walking Tour
h 4:00 pm The taste of the hills