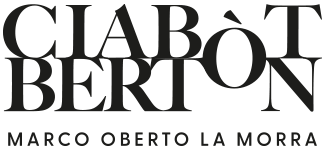 Ciabot Berton
Frazione Santa Maria 1, La Morra CN
The Oberto family can claim to have early origins reaching as far back as 1200. On a land register for La Morra there are references to the Germanic surname of Obertus. In more recent times other testimonies underline the close bond with the territory of La Morra, with specific references even to the cultivation of vines from 1800 onwards. By the end of the 1950s, Luigi Oberto, along with his father Giovenale, was cultivating the 2 hectares of Nebbiolo on the hill of Bricco San Biagio, and selling the grapes at the Alba market.
In these years, to avoid being subjected to the decisions of dealers and merchants and their imposition of iniquitous prices, Luigi decided to create his own winery and produce the wine himself, aiming to optimise the value of his own work. The first years' production of Barolo were bottled from 1961 onwards. The limited yield amounted to a few thousand bottles: part of the wine from the best cask became a reserve, whereas a part of the production was sold unbottled to the major producers of the area. As the years went by, more land was given over to the growing of vines, until the present-day 12 hectares were reached. This land includes not only the valuable vine-growing slopes purchased over the years, but also the vineyards inherited by his wife Maria Beatrice in the historic Roggeri cru.
The winery now in use was built in the 1980s on the site which has always been known as Ciabot Berton. The small building (ciabot, in Piedmont dialect) which stands here once belonged to a certain Berton, who had attempted to set up manufacturing fireworks here, and had burnt out the building and destroyed its roof. This old ruin, which gave its name to the business, can still be seen from the winery, and is surrounded by the Nebbiolo vineyard. The new winery is therefore sited in a dominant position, where it enjoys views of the wonderful landscape which opens out over the hills of Barolo. On clear days, gazing towards the north, the peaks of Cervino and the mass of Monte Rosa stand out, while in the opposite direction the villages of the Alta Langa form a hinge between Piedmont and Liguria.
From the 1990s, Luigi's children Marco, an oenologist, and Paola, an agronomist, began working with him. Increasingly aware of the quality and full potential of the vineyards and their Nebbiolo grapes, they decided to vinify the grapes of the different vineyards separately, selecting the best batches of Barolo for bottling. In this way, by making a few important adjustments in production to add to Luigi's great experience, the wines of Ciabot Berton have become steadily more widely known and appreciated.


Visitable cellar

Our products Barbera d'Alba DOC, Barolo DOCG, Dolcetto d'Alba DOC, Langhe Nebbiolo DOC
Upon request paying tasting with cheese and cold cuts to match
Public sale Both in bottles and from cask


+39 0173 50217
+39 338 6197712
Contact us
www.ciabotberton.it

Spoken languages
English, French

Credit cards
American Express, Mastercard, Visa

Opening days
Monday to Friday from 9.00am to 5.00pm, Saturday from 9.00am to 1.00pm
Annual closing
15 August, Christmas holidays

Disabled access
Animals ammitted
yes
Activity open for
Tour and sale

Guided tours
Booking
yes
Languages translations
yes, English and French
Notice required for the visit
Visitables vineyards

Production numberd
50.000 bottles per year
Municipalities representatives
La Morra