11-18-25 July 2021: for three Sundays in a row, the cellars of Strada del Barolo will open their doors to children and teenagers, with dedicated workshops and activities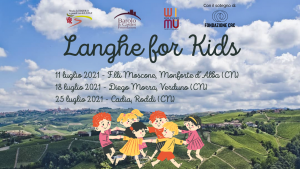 A tourist and educational proposal different from the usual, designed specifically for children and teenagers, on the themes of wine, the landscape and the typical features of the territory through the use and discovery of the five senses.
From 11 to 25 July, for three consecutive Sundays, three wine producing companies members of Strada del Barolo will open the doors of their cellars to families by providing a series of educational activities for children and young people and various proposals for their accompanying adults: walks through the vineyards, visits to cellars and tastings.
The educational activities will be coordinated by two experienced entertainers, who will involve the little ones in games and workshops: drawings with wine, activities to discover colors and scents, practical exercises to create and handle new and curious materials.
PROGRAMME:
Sunday 11 July 2021, 16.30-18.30, Cantina F.lli Moscone, Monforte d'Alba (CN)
 "Discovering the elements": "Water" → an afternoon to play together to discover liquid things, in a sweet and strong, slow and fast movement.
Proposal for adults: a walk through the vineyards, to discover the characteristics and peculiarities of the company's vines. Winery visit and tasting of 6 wines, starting with 2 whites, Langhe Chardonnay Doc and Roero Arneis Docg, followed by 4 red wines, Dolcetto d'Alba Doc, Barbera d'Alba Doc, Nebbiolo d'Alba Doc and Barolo Docg. Everything will be paired with a platter of traditional cold cuts and cheeses of the area.
Price: 20.00 € per person, free for children
Sunday 18 July 2021, 16.30-18.30, Diego Morra, Verduno (CN)
 "Discovering the elements": "Fire" → an afternoon of leisure together with the most dynamic, moving parts, sometimes a destructive or constructive force.
Proposal for adults: short walk in the vineyards in the proximity of the company and visit to the cellar in the winemaking and aging rooms. On the panoramic terrace tasting of 6 wines, including 5 DOC wines and a DOCG Barolo, paired with homemade bread sticks and hazelnuts.
Price: 18.00 € per person, free for children
Sunday 25 July 2021, 10.30-12.30, Cadia, Roddi (CN)
 "Discovering the elements": "Earth" → a morning in the name of the most solid, unchangeable aspects, a meeting in the here and now.
Proposal for adults: short walk in the vineyard, visit to the hazelnut grove and to the cellar. After that, tasting of three different types of wines paired with hazelnuts of the company and some delicious appetizers.
Price: 15.00 € per person, free for children
All these events can accommodate a maximum of 10/12 children aged between 5 and 10 years for fun activities and 20/25 adults for visits and tasting in the cellar, based on the capacity of the facilities.  Reservations are required by email: staff@stradadelbarolo.it or by phone +39 334 5957875
Families participating in one of the three appointments of Langhe for Kids will receive a voucher with free admission up to the age of 14 to visit the WiMu Wine Museum in Barolo.
With the support of:
Under the patronage of: