Three special nights to discover the wines made from Nebbiolo of Langhe compared to those produced in different areas. It will be an occasion to understand all the nuances and peculiarities that soil, weather, exposure, altitude and other factors give to the wine.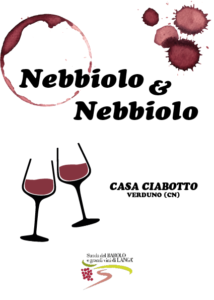 Strada del Barolo proposes a new initiative, scheduled for Autumn, addressed to the many wine lovers and enthusiasts who are curious to discover, understand and appreciate the differences that wines produced from the same vine variety can assume if the are cultivated in specific areas, are grown in different ways and then processed with different methods.
Like brothers descending from the same lineage, each wine will assume its own "character".
From Langhe to the North of Piedmont, from Roero to Valtellina, from Aosta Valley to Sicily, Nebbiolo is one of the noblest vines in the world and expresses extraordinary characteristics in the different areas of Italy.
Three will be the appointments at the restaurant "Casa Ciabotto" of Verduno:
8 November 2018 at 8.00 pm
Castle of Verduno – Verduno (CN): Langhe Nebbiolo DOC 2017 and Barbaresco DOCG 2015
Travaglini – Gattinara (VC): Gattinara DOCG 2014 and Gattinara DOCG Tre Vigne 2012
MENU
Crostino con salsiccia di Verduno e cime di rapa
Vitello tonnato
Friciule con lardo
Risotto con pere e gorgonzola
22 November 2018 at 8.00 pm
Olivero Mario – Roddi (CN): Langhe DOC Nebbiolo and Barolo DOCG 2014
Caves Cooperatives de Donnas – Donnas (AO): Valle d'Aosta DOC Donnas Napoleon 2015 and Valle d'Aosta DOC Nebbiolo Picotendro 2016
7 Dicember 2018 at 8.00 pm
Le Strette – Novello (CN): Langhe DOC Nebbiolo 2015 and Barolo DOCG Bergera Pezzole 2013
Nino Negri – Chiuro (SO): wines to be defined
A journey to discover the vine variety and its characteristics, the best producing areas and the related terroir, the different refining techniques and tasting profiles.
A comparative analysis of the different areas and expressions that the vine provides within the many Nebbiolo-based Designations of Origins.
The producers in person will guide the tastings in a compelling dialogue of comparison to discover the wines of some of the most famous wine producing companies of Northern Italy.
For each of the three appointments, the restaurant "Casa Ciabotto" will propose a small menu of traditional dishes prepared with seasonal ingredients.
The cost of the evening will be 30 € per person. Online booking is required.
For info: staff@stradadelbarolo.it or +39 338 2578422