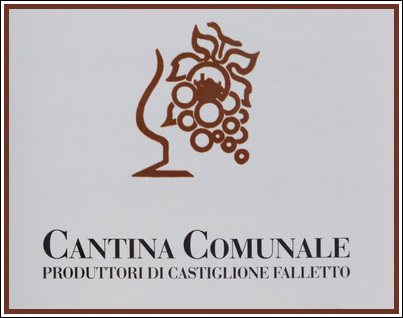 Cantina Comunale di Castiglione Falletto with kitchen
Via Cavour 24, Castiglione Falletto CN
The Communal Wine Cellar of Castiglione Falletto lies in the heart of the wine producing area of Barolo. In a suggestive position, amongst the vast panorama on the vineyards, it houses all the producers of Castiglione Falletto with their precious wines.
The varieties of wine production techniques between the various producers highlights even more than the particularity of the soils of Castiglione Falletto, that they know how to give their quality wines their unique characteristics.
In a simple and hospitable environment you can taste the following wines of the producers of Castiglione Falletto: the young Dolcetto d'Alba, the elegant Barbera d'Alba, the fanciful Langhes Rosso and Langhe Nebbiolo anf the king of the kings, the noble Barolo.
The Communal Wine Cellar also offers the possibility to combine the wines of the prestigious producers of Castiglione Falletto, even by the glass, with the traditional Piedmont cuisine.ย Every day for lunch from 12.00 to 14.30 and dinner, only by reservation, from 19.30 to 21.30.ย 


Visitable cellar

Where to eat

Our products Wine of the producers of Castiglione Falletto
Public sale Yes


+39 0173 62938
Contact us
www.cantinacastiglionefalletto.it

Spoken languages
English, French

Credit cards
Visa, American Express

Opening days
Every day from 11.00 to 19.00
Annual closing
December 25th and January 1st

Animals ammitted
Yes

Booking
Yes, for dinner and for groups of over 10 people
Languages translations
Yes: English and French

Municipalities representatives
Castiglione Falletto
Associated productors
Azelia, Boasso Giancarlo, Bongiovanni, BoroliI, Brovia, Gigi Rosso, Cascina La Briacca, Cavalier Bartolomeo, Cavallotto f.lli, Ceretto Bricco Rocche, Livia Fontana, Mascarello Giuseppe e figlio, Monchiero f.lli, Paolo Scavino, Pugnane Fratelli Sordo, Rochhe Viberti, Rosoretto, Sobrero Francesco e figli, Sordo Giovanni, Tenuta Montanello, Terre del Barolo, Vietti
700
available bottles