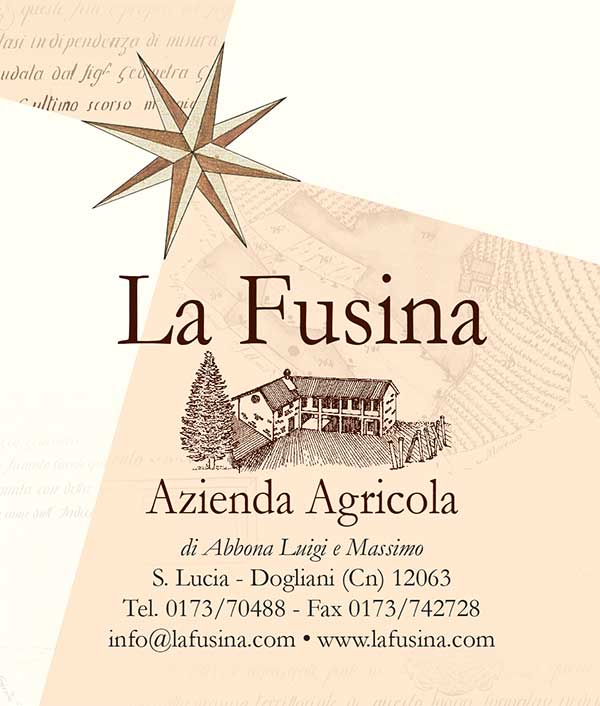 La Fusina
Frazione Santa Lucia, 33, Dogliani CN
Dogliani, capital of the south-western Langhe, lies in a natural hollow surrounded by hills covered with vineyards. The culture of wine is well rooted thanks to centuries of rural tradition and to the everyday contact with vineyards and cellars. The farmhouse is the heart of life: if there are a lot of reasons and a lot of ways to approach the wine, one of these can be knowing at close the way of making wine still used in the country, that is to know and taste the wines La Fusina.
As far back as 1792, testified by an old map found in the farm's loft, the farm La Fusina was partly cultivated with vineyards in the lands facing the sun and with grassland and wheat in the valley bottom. The actual owners, Luigi Abbona and his family, have been living in La Fusina since 1914 and from the beginning the work in the vine-rows and the making of wines have been the main activities: 15 out of the 20 hectares of the farm are in fact grown on vineyards.
The hamlet Santa Lucia, where is situated La Fusina, is one of the most charming places of the Doglianese territory. The amenity and peacefulness of the country, the land particularly suitable to the vine, the favourable exposures of the vineyards, the careful work in the cellar are all elements contributing to the production of high quality wines, very versatile and and of marked personality, ready to amaze also the most exigent palates.


Visitable cellar

Our products Barbera d'Alba DOC, Barolo DOCG, Dolcetto di Dogliani DOC, Dolcetto di Dogliani Superiore DOCG, Langhe Chardonnay DOC, Langhe Dolcetto DOC, Langhe Rosso DOC, Piemonte Barbera DOC, Piemonte Moscato Passito DOC
Paying tasting
Public sale Both in bottles and from cask


0173 70488
339 2093559
Contact us
www.lafusina.com

Spoken languages
English

Credit cards
All types

Opening days
Everyday
Annual closing
Christmas

Activity open for
Tour and sale

Notice required for the visit
Visitables vineyards