Barolo en primeur is back with a great news: the participation of the producers gathered under the name of the municipality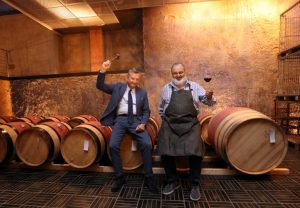 Barolo en primeur 2022 is CSR initiative promoted by the Cassa di Risparmio di Cuneo Foundation, with the
CRC Donare Foundation and with the Consortium of Protection of Barolo Barbaresco Alba Langhe and Dogliani.
Barolo en primeur is a charity competition supporting projects of social utility, both in Italy and abroad, which will be matched with 15 2021 Barolo barriques, currently aging. For the first time this year, also the member producers of the Consortium of Protection of Barolo Barbaresco Alba Langhe and Dogliani will participated in the auction: the wineries, that are united under the name of the Municipality of production, will combine the auction with 10 municipal lots made by their finest bottles of 2021 Barolo and Barbaresco.
On October 28, 2022 Barolo en primeur will take place in the scenographic context of the Castle of Grinzane Cavour, and in live streaming with world-renowned wine critic and CEO of Vinous Antonio Galloni in New York. The charity event, chaired by Christie's auction house, will support several subjects and projects in the field of non-profit. The first edition took place in October 2021 raised over 660,000 euros, which funded 17 national and international charity projects. This year the proceeds of the auction of the 15 barriques will again fund projects and initiatives
of social utility in the fields of health, research, arts and culture, social inclusion and the protection of cultural heritage. Some of these projects and initiatives will be selected by the Foundations before the even, while others will be chosen directly by the winning bidders. The proceeds of the municipal lots will be donated entirely to the Oenological School of Alba.
The wine, contained in the barriques, comes from the vinification of the grapes harvested in the historic Gustava vineyard of Grinzane, produced and vinified by internationally renowned oenologist Donato Lanati. When the wine will have completed its aging in 2025, about 300 bottles will be produced from each barrique. More than 70 wineries are involved in the initiative, and donated over 1200 bottles in different sizes.
The bottles will be numbered and marked with a label, created by an internationally renowned artist: an unprecedented collection that will promote Barolo and its territory nationally and internationally, in addition to supporting various projects of social utility in Piedmont, in Italy and in the world.
The auction catalog was closed these days: there are 10 municipal lots and more than 75 participating wineries, including Barolo and Barbaresco wineries.